Posted: April 12, 2011 at 10:18 pm
Its National Volunteer Appreciation Week (April 10-16) and in recognition of our amazing volunteers I have been doing volunteer features throughout the week. At SAINTS what makes our volunteers so great is not just that they are all here for the right reasons-the animals, but they also manage to do everything that needs doing amist all of the pee, poop, chaos, mayhem, the dozens of animals underfoot and on counters and shelves all around, all needing their own specialized care and attention. They are only able to do this as a cohesive caring and considerate team. Working well with animals and with others is a must and our volunteers are exceptional at both.
Every once and a while in a working team environment (whether paid or volunteer) someone new will come along who just fits so well you can't remember a time before them and frankly you don't really want to. For us that is Anne. When Anne joined the house volunteer weekend team she just fit.

So how did we score such a great catch?

I first heard about SAINTS in a local newspaper article just before Christmas  2009, I was so impressed with what the reporter said, how clean the house was, how well looked after the animals were and especially the story of Rose, who had been abused and had found love and happiness at SAINTS  that I had to see for myself.  I came for the tour and like most people that visit I was instantly hooked. I had planned all my life that when my children left the nest and I had more time I would do some volunteer work that had nothing to do with my day job, I'm a bookkeeper and I found exactly what I was looking for at SAINTS.

SAINTS has given Anne a new perspective on life.

There's nothing quite like cleaning up after a hoard of incontinent animals to keep you grounded! I use Carol as my inspiration, anytime I feel sorry for myself or over worked or under appreciated etc., I remind myself of a typical day for her and it puts life in perspective for me.

It was righ around the same time that  Anne started volunteering that Kodi found his way to SAINTS and into to Anne's heart. Kodi was a totally crazy and ancient blue cattle dog with a massive tumor who was obsessed with herding. He would herd the dogs up onto furniture and beds and he would even herd people too. I may or may no have been herded by him on more than one occasion, I admit nothing.  But despite his bad boy reputation, Anne was quite taken with him.

Kodi was my favourite dog because he was the same breed as my daughter's dog and away from threat of other dogs getting his food he had the gentlest mouth around. I remember Carol warned me when I took him home one weekend throw his treat at him or he'll take your fingers off! It was an especially sad day for me when Kodi  passed on as I was very attached to him, I have kept his dog nose mark on  my bedroom mirror door, where he tried to attack himself while he was here, so that I still have a little bit of him around!! Gone but not forgotten………sweet dreams, Kodi Bear.

I asked Anne what the biggest challenge about volunteering at SAINTS is:

Biggest challenge for me as a volunteer is remembering the animal's names!

SAINTS annual open house is a big event for us.  Besides the weeks of prep to get the place looking great, it is an operational challenging to give 300 people a full tour of the property with a bunch of ancient and leaky incontinent animals. During the last open house Anne was stationed with the bed buddies and the big dog room and her job was to keep the saints happy and comfortable and to magically make any pees and poops disappear in the blink of an eye. She did a great job and apparently it was one her best times at SAINTS. So … can I pen you in for this year too Anne??? 

Best time I've had at SAINTS was the open house, because after early morning cleaning I got to spend the rest of the extended day enjoying all the dogs.

Anne gives SAINTS a glowing recommendation for anyone considering volunteering here:  

I've met some really great people and some very special animals, SAINTS is a very happy place to spend time and while we all work hard we have lots of fun here, I'd highly recommend it to anyone.

Besides her great cleaning skills and ability to get along well with animals and people, especially the crazy ones 🙂 Anne is also a very thoughtful and caring person. She is the type of person that thinks to bring Carol bath stuff for Christmas because she knows Carol loves bath stuff, the type to drag home a few garbage bags full of stinky soiled laundry every time she is out and return with clean, fresh and folded linens and fleeces, the type who will come in both days on the weekend if we are short or switch days with someone if they need to.

Anne and Kodi (please note Anne still has all her fingers)

 

If I had to use one word to describe Anne it would be joyful. She is such a ray of light at SAINTS and brightens up any day or room with her joyful spirit.  Thank you Anne for being such a positive force at SAINTS and thanks to whoever wrote that article that led Anne to us and I know Kodi thanks you too.

 
Anne kindly taking the mail to sort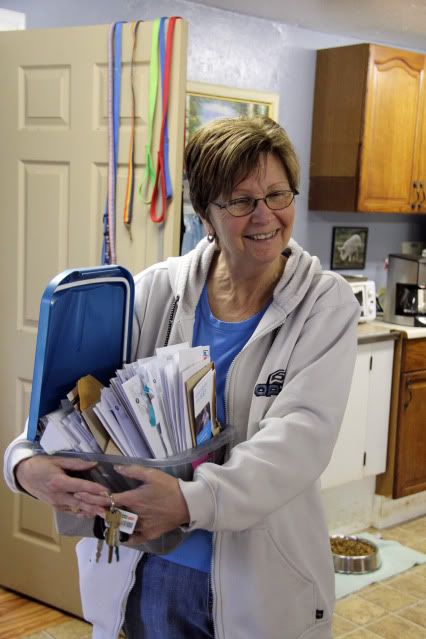 Anne and Molly Christmas 2010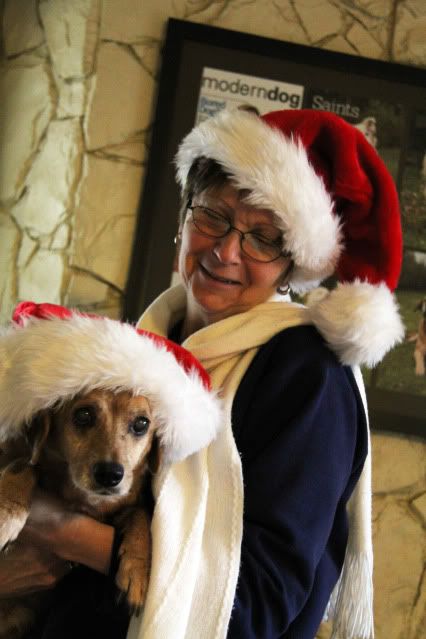 In case you missed them check out the preceding Volunteer Features:
Volunteer Feature 3: Maureen (Mo)   
For information about volunteering please see http://www.saintsrescue.ca/helping/volunteer.htm