Posted: July 18, 2013 at 5:00 pm
93.7 JRFM an 102.7 The Peak are once again sponsoring our Wishes 4 Whiskers Charity Dinner & Auction. They are going to be running ads starting early September so everyone keep their ears open come September. Advertising costs thousands of dollars just for one week… and we are lucky enough to get this donated to us year after year.
I also want to thank Annette Durante and Kyle McCreedy for coming to our event 4 years in a row. Annette has co-hosted the event 3 of those 4 years. Annette works for JRFM and is directly responsible for getting us such a great sponsorship from JRFM. Kyle was the person who named Brad Pitt "Brad Pitt". Kyle and Annette have a cork board that they have been pinning souvenirs from past W4W events. (See picture below). You can see they are great supports of our ribbon auction. And lucky me, through SAINTS, I got to meet two wonderful animal lovers that I am proud to call friends.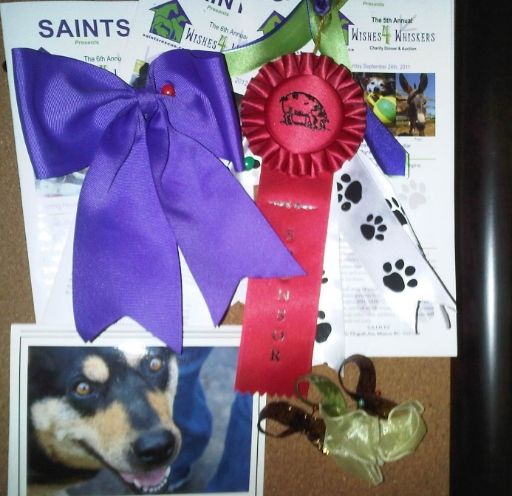 Please click on the following link to get more information on our upcoming fundraiser