Posted: August 5, 2011 at 10:53 am
This year again Telus has included SAINTS in their Team Telus Charitable Giving Programme. Last year they donated $2831 and this year they have double that … raising $5662. Wow and it is perfect timing too with all of the new incoming animals. Telus has been great to SAINTS and this year we would especially like to thank those individuals who donated their hard earned money to our great cause to help senior animals (sorry in advance for any misspellings): Hay Khan, Janet Bracewell, Julie-Anne Scott, June Bronneau, Linda Kabertein, Lisa Kabatoff, Lisa James, Nikola Niseteo, Sean Wrobel, Shanna Phillips, Sharon Schmidt, Shelly Howatt, and to the generous anonymous donors too thank you, thank you thank you.
Telus also came in 2010 and volunteered for a day, helping wash windows, fences and doggies. They were a harding working, generous and animal-loving bunch who were not afraid to get their hands dirty or to work in the rain.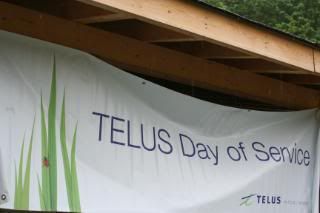 we really like telus 🙂