Posted: January 2, 2011 at 6:56 pm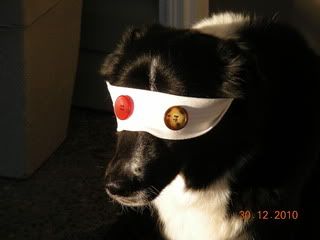 Dear Auntie Carol,
— I am sending you this little note in celebration of my 10th Birthday ! I have attached a photo of myself, my mother insisted I put on my Halloween costume to show you( I don't know why I put up with her !) For God sake button eyes… give me a break ! Any way I am doing well, some arthritis has set in but my dad gives me a glucosamine pill daily when he takes his so it seems to be working. As you can see I am in pretty good shape ! My parents have been supporting the Pepsi Challenge and follow the goings on at Saints. I will have to stop in for a visit soon….
Better go, its walk time!!! HAPPY NEW YEAR !!!!!!!!!!!!
Cheers,
Mitzi/Chiclet